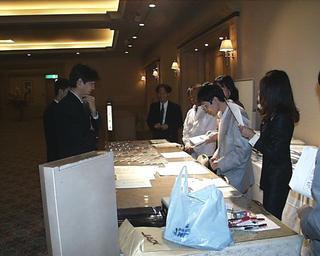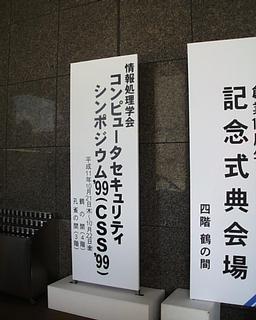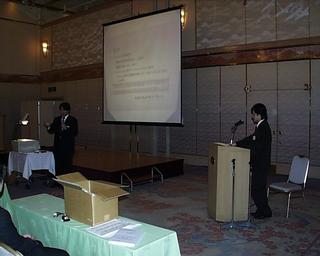 CSS(Computer Securityt Symposium)is promoted by IPSJ(Information Processing Society of Japan).
CSS'99 on Oct.21-22.1999 in Hotel Nikko Kanazawa is promoted by JAIST(Japan Advanced Institute
of Science and Technology) and Hokuriku branch,IPSJ. An announcement about various theories
used as the foundation of a computer security and technology was made. Our laboratory also
helped the receptionist.
---
CSS'99 program(The mark * means a presenter)
---
- October 21st, (Thu.) : 13:30 - 15:10

Hall A : Session 1A (Cryptology) -- Chair : Tsutomu Matsumoto (Yokohama National Univ.)

An absolute time-stamping protocol using relative time-stamp by distributed authorities
*Masaru Jinnai, Kouichi Sakurai (Kyushu Univ.)

Gaudry's variant against Cab curves
*Seigo Arita (NEC)

A study on plain cipher
*Ikuhiro Igarashi

Proxy signatures based on original signer's message recovery
*Takechi Okamoto, Mitsuru Tada, Atsuko Miyaji (JAIST)

On the security of security-enhanced ElGamal-type cryptosystem
*Hirokazu Shimada, Eikoh Chida, Masahiro Mambo, Hiroki Shizuya (Tohoku Univ.)

Hall B : Session 1B (Software protection, Provacy protection) -- Chair : Ryoichi Sasaki (Hitachi)

The fair data delivery protocol
*Yoichi Samoto, Shinichi Nakahara (NTT)

Protecting anonymity and location privacy in cyclic routes
*Satoru Nagano, Shigeki Kitazawa, Masakazu Soshi, Atsuko Miyaji (JAIST)

A proposal for tamper-resistant mobile agent
*Toshiya Iwai (ISD), Wen Wu, Fumio Mizoguchi (Science University of Tokyo)

A protocol for secure data transportation from smart card to CPU
*Tohru Ikuma, Masakatsu Nishigaki (Shizuoka Univ.), Masakazu Soga (Iwate Perfectural Univ.), Akio Takubo (Mitsubishi)

Anti-macro-virus experiments by digital certificate of Microsoft Office 2000
*Yasushi Sengoku, Shimmi Hattori (Kanazawa Ins. of Tech.)

October 21st (Thu.) : 15:30 - 16:30

Hall A : Session S1 (Invited talk 1) -- Chiar : Akira Hayashi (Kanazawa Ins. of Tech.)

Legal Aspects of Year 2000 Problem
*Kazuko Otani (Legal Affairs Department)

- October 21st (Thu.) : 16:50 - 17:50

Hall B : Session 2B (Network security 1) -- Chair : Atsuko Miyaji (JAIST)

New results on model checking authentication protocols
*Wen Wu, Fumio Mizoguchi (Science Univ. of Tokyo)

Access control issues in flexible group communication with Email
*Yuko Murayama (Iwate Prefectural Univ.)

Effects of data hiding on remote data analysis
*Kanta Matsuura (Tokyo Univ.)

- October 22nd (Fri.) : 8:30 - 10:50

Hall A : Session 3A (Electronic commerce, Electronic voting) -- Chair : Takayoshi Shiraishi (Hiroshima Shudo univ.)

Electronic revenue stamp system suitable for electronic application
*Takehisa Kato, Atsushi Simbo, Satomi Hori, Toshiaki Saisho (Toshiba)

A digital ticket system for trading various rights
*Yasunao Mizuno, Nobuyuki Chiwata, Yoshihito Oshima, Kazuo Matsuyama (NTT)

A copy prevention method for rights trading infrastructure
*Masayuki Terada, Hiroshi Kuno, Masayuki Hanadate (NTT)

A ticket definition language for rights trading infrastructure
*Yoshiaki Nakajima, Ko Fujimura, Jun Sekine (NTT)

Study on an off-line e-cash scheme
*Atsushi Koide (JAIST), Koji Hirohashi (PFU), Mitsuru Tada, Atsuko Miyaji (JAIST)

An anonymous electronic sealed-bid auction scheme with group keys
*Shingo Miyazaki (Toshiba), Kouichi Sakurai (Kyushu Univ.)

Performance evaluation of distributed systems for anonymous auction system
Hiroaki Kikuchi, *Shinji Hotta, Kensuke Abe, Shohachiro Nakanishi (Tokai Univ.)

Hall B : Session 3B : Illegal access

Implementation and evaluation of a network intrusion detection system by packet monitoring
*Keiji Takeda, Yoshiyasu Takefuji (Keio Univ.)

Visual browser for intrusion detection : VB-ID
*Fumio Mizoguchi (Science Univ. of Tokyo)

Development of configuration file based security scanner
*Masato Terada, Satoshi Kai, Hitoshi Kumagai (Hitachi)

A firewall with authentication of the right of an operation and filtering of operation commands
*Masatoshi Furuya, Hiromitsu Kato, Teruji Sekozawa (Hitachi), Takeshi Koizumi (Realtec)

An integration framework for open vender unauthorized access protection system
*Satoru Torii, Masahiro Komura, Osamu Koyano, Tetsuo Shiozaki (Fujitsu), Kotaro Katsuyama, Seiji Fujii (Mitsubishi), Masato Terada, Takeshi Ito (Hitachi)

A proposal of connection method between components for open vender defensive system from unauthorized access
*Makoto Kayashima, Hiromi Isokawa, Toru Senoo (Hitachi), Seiji Fujii, Kotaro Katsuyama (Mitsubishi), Masahiro Komura, Tetsuo Shiozaki (Fujitsu)

Implementation of network monitor for open vender unauthorized access protection system
*Seiji Fujii, Takehiro Ohkoshi, Hiroshi Suzuki (Mitsubishi), Satoru Torii, Osamu Koyano (Fujitsu), Toru Senoo (Hitachi)

- October 22nd (Fri.) : 11:10 - 12:10

Hall A : Session S2 (Invited talk 2) -- Chair : Tsuyoshi Takebe (Kanazawa Ins. of Tech.)

Current situation and countermeasures of high-tech crime
*Masayuki Tanaka (Ishikawa Prefectural Police Headquarters)

- October 22nd (Fri.) : 13:30 - 14:30

Hall A : Session 4A (Authentication, Identification) -- Chair : Eiji Okamoto (Wisconsin Univ.)

A verification tool of authentication protocols
*Takamichi Saito, Kenji Tsukimura, Wu Wen (Science Univ. of Tokyo)

Authentication technology on the electronic notary system
*Shoichi Hashimoto, Shinichi Nakahara (NTT)

Authentication by a smart card and biometric devices including cryptographic calculators
*Tomoaki Morijiri, Miki Yamada, Toshiaki Saisho (Toshiba)

Hall B : Session 4B (Electronic watermark 1) -- Keiichi Iwamura (Canon)

Consideration of detecting technique for audio media watermarking
*Munetoshi Iwakiri, Kineo Matsui (National Defense Academy)

A variable-displaying digital watermark for grayscale image using the rate of frequency transform coefficients
*Takayuki Yamada, Kineo Matsui (National Defense Academy)

The watermark by Wavelet transform with the well-considered position to embed
*Kenji Murakami, Yoshito Ueno (Soka Univ.)

- October 22nd (Fri.) : 14:50 - 17:10

Hall A : Session 5A (Network security 2) -- Chair : Satoru Torii (Fujitsu)

Proposal of group search protocol making the realization of closed communication groups easy
*Akira Watanabe, Toru Inada (Mitsubishi), Tetsuo Ideguchi (Aichi Prefectural Univ.), Iwao Sasase (Keio Univ.)

Design of key distribution protocol without certification authority
*Makoto Satoh, Norishige Chiba (Iwate Univ.)

Interactive proof of mobile code safety
*Yasuyuki Tsukada (NTT)

Improvement of SSL communication protocol to protect from misusement of leaked secret key
*Takuto Fujinaga, Shigetomo Kimura, Yoshihiko Ebihara (Tsukuba Univ.)

Renewable authentication and encryption systems
*Kouya Tochikubo, Koji Okada, Naoki Endoh (Toshiba), Eiji Okamoto (Wisconsin Univ.)

X.509 certificate based secure devices control
*Kazuaki Tomioka, Wu Wen, Fumio Mizoguchi (Science Univ. of Tokyo)

A Cookie-based information hiding scheme and its implementation
Tsutomu Matsumoto, *Tatsuro Ikeda (Yokohama National Univ.), Kyoko Makino, Akio Sato, Ichiro Murase (Mitsubishi)

Hall B : Session 5B (Electronic watermark 2, Architecture) -- Chair : Natsume Matsuzaki (AMSL)

A fingerprinting scheme for content redistribution
*Taku Katoh, Hirofumi Muratani (Toshiba)

A proposal of digital watermark to H.263 video coding for low bitrare communication
*Wisetsuit Piyapisuit, Kineo Matsui (National Defense Academy)

Digital watermarking for 3 dimensional CG by bump mapping
*Tadashi Mizumoto, Kineo Matsui (National Defense Academy)

A watermarking method adapted to JPEG compressed images
*Yoonki Choi, Kiyoharu Aizawa (Tokyo Univ.)

A prototyping on digital camera with function of copyright protection
*Hajime Morito, Kosuke Anzai, Hiroshi Yoshiura, Chisato Konno (Hitachi)

Proposal of the middleware for common use of Java cards and its security functions
*Tatsuya Ishihara, Toshiyuki Asanoma, Megumi Aoki, Toshiaki Saisho (Toshiba)

The information technology design based on security architecture
*Yoshihiro Sato (Hewlett-Packard Japan)